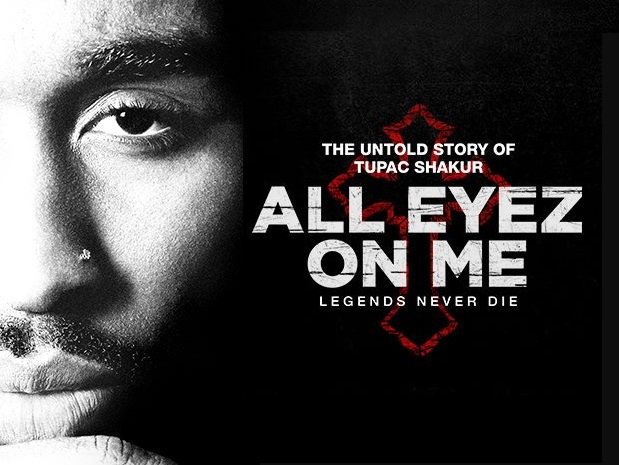 Tupac Amaru Shakur was a perfectionist.
There's a specific moment early in "All Eyez On Me" that touches upon this, his most unifying quality. Unfortunately, though, highlighting this attempt at exactness only serves to expose the film's biggest flaw.
True fans of the most polarizing figure in hip-hop culture of the '90s will find plenty to enjoy in this movie, but if Pac were alive, there's no way he would have overseen its production to this end. To be fair, it's tough to immortalize a man whose relentless goal was to get things right without pulling any punches, but if he were still around, he'd have paced around the cutting room floor until a better product was ready for distribution.
Directed by Benny Boom of music video fame, "All Eyez On Me" struggles at times, but it also features moments of clever cinematography and real emotion. Demetrius Shipp Jr., who gracefully makes his first lead acting performance as Shakur, is a fluid vehicle in his portrayal of this complicated human. I can't think of another actor who could have captured Pac's mannerisms with more precision. The kid is a spitting image of Shakur, and went from sending in an audition video five years ago and working at Target to the Big Screen with the film.
To understand the performance, you first have to understand the man. Tupac was a thug laureate, an avid student of Shakespeare and an instinctive leader of men. His rough edges and gangster mentality seemed to be learned behaviors; I can't help but wonder what his classmates at the Baltimore School of the Arts thought of his eventual thuggish persona after first having seen him crowned the lead in "Hamlet" during his sophomore year.
But that hard edge was earned – if not forced – based on the cards he was dealt throughout a youth that found him as the man of the house from adolescence. If he were alive today, he'd be the first to explain that he was a victim of his own depiction of reality. He acted out quite a bit, but he also understood the life of a man with a target placed on his back from the jump. In fact, he probably expected it.
Afeni Shakur, played well in the film by Danai Gurira, was pregnant with Tupac while in prison. She tried to use her strengths for good, but persistent frustration with the environment in which her kids were being raised was overbearing for her. As intelligent as she was angry, she did succeed in instilling in Tupac a legit yearning for knowledge and, if the film is to be believed, once gave Pac a composition book as a primary Christmas present, saying something along the lines of, "Your words will get you a lot further than a basketball." Even if this was an artificial Hollywood moment (and there are too many of those scattered throughout the film), Tupac took the sentiment to heart from an early age.
Tupac's stepfather, Mutulu Shakur (played by Jamie Hector aka Marlo from The Wire), is adept as an infamous Black Panther leader with militant opinions and actions that land him as one of the FBI's top ten most wanted fugitives throughout the '80s.
After Mutulu's eventual capture, times got rough (again), and Tupac abruptly moved to Oakland with his sister. But as he grew into early manhood, he caught a professional break. Things got brighter in the Sunshine State, and he got around enough to finally keep his head up for a while. Through a friend in the underground theatrical community, he got hooked up with someone who knew someone who knew Shock G of Digital Underground. After winning over Shock and a few other industry folks, he set sail as a performer. His first verse is a very PG script about girls who once ignored him asking him if they could kiss him after they discovered his talent. It was foreshadowing of the boulder he held on his shoulder that made him relatable to people all over the world.
As time went on, his ambitions grew and his brilliance became more evident. It wasn't until he could stand on his own reputation that Tupac made being vulnerable something cool. I remember getting that from him as a pup. There's nothing wrong with being intelligent and tough at the same time. In this way, he was a revolutionary for people of all races, all over the world. And if he weren't so important, critics wouldn't be carving up a film depicting his life nearly 22 years after his death.
Tupac made some hefty mistakes on his rise to fame and fortune, and while the film doesn't shy away from covering these topics, it doesn't get bogged down by them either. Instead it focuses on the perpetual forward trajectory of the star on the way to that fateful night in Suge Knight's BMW in Las Vegas.
Other quality performances are given by Jamal Woolard, who reprises his role as Biggie from the 2009 film "Notorious," Annie Ilonzeh as Kidada Jones (Tupac's last girlfriend/Quincy Jones' daughter) and Dominic L. Santana, who occasionally shows the maniacal nature of Suge Knight to perfection.
It's hard to write an accurate depiction of Tupac, because so much about him is unknown. From his absent biological father, to the potential presence of COINTELPRO in the incarceration of his stepfather, to the rapper's death, it's hard to separate fact from fiction. However, if Tupac was a big part of your life in the '90s, it's worth the nearly 140-minute runtime. Casual fans might find some of the squirmy moments harder to ignore. One thing is for certain, though (and "All Eyez on Me" finishes strongly with this sentiment): If you listen to Tupac talk long enough, you'll find yourself somewhere in his words.
'All Eyez On Me' debuted at the Regal Riviera 8, Regal Knoxville Center 10, Regal Pinnacle, AMC Classic 16 and several other theaters in Knoxville, TN and surrounding areas. The film was released on what would have been Shakur's 46th birthday and made an estimated $27 Million in its opening weekend.